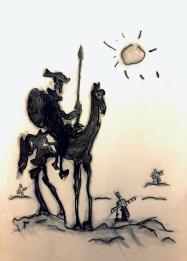 An idealistic law student confronts the cynicism of his more conformist classmates in the post-protest era of the 1980s, and discovers that his ideas of how the law should work as an instrument of social justice are greeted with scorn and ridicule at the highest levels of an increasingly politicized judicial system.


James Starke is an American author and attorney who practiced law as a civil rights lawyer during the 1980s and 90s. A Matter of Principle, his novel about the quixotic struggles of an idealistic law student, is a fictional account based on actual events and experiences he had while in law school, and later as a young lawyer. Starke says his work, being based on real-life experiences, distinguishes him from other attorney-authors in the sub-genre of legal fiction.
FOR MORE INFORMATION, write to: JamesStarke@AMatterofPrinciple.info

Artist Donna Kato turned the sketch into a work of art that became the cover to A Matter of Principle (as shown in the upper left-hand corner).
Picasso's drawing originates from the title character in Miguel de Cervantes' early 17th century novel The Ingenious Gentleman Don Quixote of La Mancha, a founding work of Western literature often labeled "the first modern novel.
Many authors consider it to be the best literary work ever written.
The cover art was derived from Pablo Picasso's well-known drawing (to the right) - inverted so that Don Quixote is facing to the right – as interpreted in a crude sketch (to the left).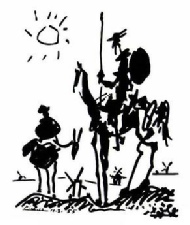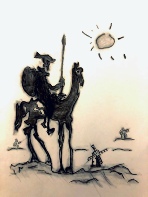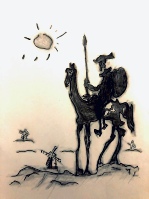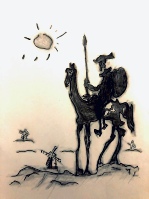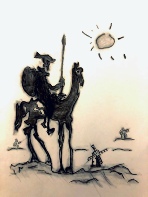 Editor's Note: A fictionalized account of an historical event that took place in 1986 when an idealistic law student appealed a traffic case to the U.S. Supreme Court, this novel presents a real-life picture of the law school experience, and a speculative account of what may have transpired between justices at the Supreme Court when they considered the appeals to their collective conscience by a young attorney that the Chief Justice likened to a "small boy" given a loaded pistol "without instruction as to how it should be used." These demeaning words found their way into a published opinion, setting off a firestorm in the media, followed by the abrupt resignation of the Chief Justice less than a month later.
Did the uproar over a traffic case lead to the downfall of the Chief Justice?
Perhaps the papers of the Chief Justice will reveal the answer to this and other questions about his tenure but the public will have to wait to find out - his will stipulates that those papers will not be released until 10 years after the death of the last remaining member of the high court who served with him.